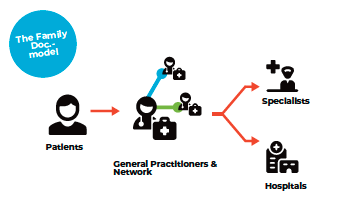 Insured in the HMO Model
The MHO model offers one of the most common variants of compulsory health insurance.
The family doctors take on a central and coordinating role in the treatment of patients and, if necessary, forward this to hospitals or specialists.
If you are insured in the family doctor model or would like to change to the model, you will find a list of our partner health insurance companies here.
Your advantages in the GP Model
Attractive discounts at our partner insurance companies

A completely individualized and personal treatment by one contact person

Your entire medical history, gathered in one place.
Fast and direct referral to specialists

Access to the general practitioner's network